The 2016 Guide to Ranking in Google
The field of SEO is a highly volatile one, prone to dramatic changes, most of which are caused by updates to the Google ranking algorithms. Because of this, you could be #1 today and #250 tomorrow.
It's also not impossible for a completely white hat site to drop during an algorithm update, and that's the main reason why you should not put all your eggs in one basket. Be sure to keep multiple sites and pages and products so if one were to drop in the rankings, the others will make up for it. It also helps to diversity traffic sources to include paid and social since Google traffic isn't completely reliable.
While it's perfectly understandable to be resentful due to the algorithm updates and their impact on your sites, you can't blame Google or yourself. Google believed your site didn't align with their mission statement, which is to "organize the world's information and make it universally accessible and useful"; you didn't see it coming.
The guide below is a 2016 guide to ranking that will educate you on the best way to go about optimizing your site for Google. You'll no longer need to worry because you'll be set up with best practice optimization now.
If you follow the tips I present to you here, the likelihood of your sites getting penalized will decrease to at least near-zero levels, and your efforts will pay off more in the form of better rankings, more traffic, and more sales.
Get Rid of Penalties Before You Begin
MY WEBSITE JUST DROPPED; I'M TALKING TO YOU!
Before you begin optimizing your site, you have to figure out a way to negate the effects of any previous grey hat or black hat tactics you've previously employed. If you've been practicing white hat SEO from the get-go, you can skip to the next step.
However, if you've previously violated Google's guidelines, then your actions are may be hurting your site, and you may not even realize this. Even if you don't notice any penalties, there could be imminent penalties just waiting to destroy all the effort you've put in.
So, the very first step you have to take is to perform a link profile audit and identify bad links in your link profile. Link building is where most SEOs violate Google's guidelines, so it's important to be thorough here.
There are many link research tools, but my favorite are Ahrefs, Majestic, and Open Link Profiler. Open Site Explorer is a good one too, but they have a smaller index, and they excel at finding your best links, not the worst ones.
So plug your site into your favorite link research tool and see what comes up. If you see many links possessing one or more of the following attributes, then you have work to do:
Sitewide (footer/sidebar)
From PR0 or N/A pages (Or DA 10 or lower)
From sites owned by you
From sites on the same IP address
From spammy pages with tons of outgoing links
Next to spammy links (e.g. gambling, loans)
From obscure domains with little traffic
These aren't the only attributes that define spammy or suspicious links. Use your best judgement while searching for bad links.
Once you've identified the bad eggs, you can start taking action to eliminate them. Follow the tips below:
If the links are from sites you have admin access to, e.g. PBN links, then you'll find it easy. Just login and delete them.
If the links are from sites you don't own, e.g. scraper sites or any other site you don't want your site associated with, you can contact the site owner and ask for a link removal or ask them to add a nofollow tag to it.
If the links were built with automated link building tools, such as Xrumer, Scrapebox, and GSA, it is almost impossible to get them removed manually. GSA has added a feature that lets you remove links built by the software. However, this is only possible if account creation was a prerequisite for placing the link. This means that automated links from blog comments (which are the most popular form of automated link spam) cannot be removed manually or automatically.
If there are any links you can't remove, your only recourse is to disavow the links using Google's link disavow tool. Click here to read a guide on how to use this tool.
Pro tip: You can easily be deemed a spammer if you just go about asking site owners to delete your links from their site, so make sure you contact them through your site's email address (e.g. [email protected]) so they know they're being contacted by the real owner of the site, not some random spammer.
Dilute Your Anchor Text Profile
The key to figuring out whether your anchor text profile is over-optimized or not is comparing yours with an indisputably natural anchor text profile. If yours doesn't looks similar, then yours may be over-optimized, especially if it contains many exact match anchor keywords.
Here's an example of a natural anchor text profile: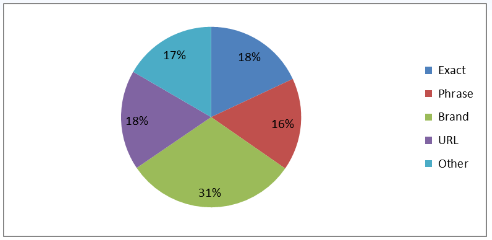 …and here are examples of each type of anchor text:
Exact match: best baby car seats
Phrase: cheap baby car seats
Brand: Car Seats HQ
URL: http://carseatshq.com or carseatshq.com
Generic: click here, more, this article, etc.
To dilute your anchor text optimization, focus only on brand and generic anchor text when building links in the future. If you have access to some of the sites where the links were placed, change them to brand anchors. If they're owned by acquaintances and friends in your niche, by all means ask them to change the anchor text of your links on their sites.
If you've made all the recommended changes so far, you've probably done enough to get rid of any existing penalties. If you have a manual penalty, submit a Google reconsideration request. If it's an algorithmic penalty, it will get lifted over time as Google starts taking notice of the changes you've made.
If you don't have a penalty, smile. You've just corrected your mistakes and your site should be ready to rank and stay ranked.
Focus on Writing Great Articles
To begin, find out what your most important keywords are and separate them into 3 lists:
Keywords you're ranking well for
Keywords you're ranking poorly for
Keywords you aren't targeting (yet)
The last two lists are the ones we'll be working with.
Pro tip: If you have keywords in the last two lists that are 100% relevant to keywords in the first list, find a way to add them to the articles that rank for the keywords in the first list.
For example, if you're ranking well for "dog crates" and you're not ranking well for "x large dog crates", add a paragraph about "x large dog crates" to the article ranking well for "dog crates".
Your future articles should focus on the keywords you haven't targeted yet. The keywords you aren't ranking well for will start moving up the rankings as you start attracting links with new content and linking from those to your poorly ranking pages.
You can also improve upon your poorly ranking articles so they can attract links of their own as these will produce the greatest search impact.
How to Write Great Content in 5 Steps:
STEP 1: It all starts with the title. Write a captivating title that entices people to click for more. You can achieve this by using titles that arouse curiosity, include numbers, etc. Examples of captivating titles are:
10 Ways to Stop X
The Best and Worst Types of X
50 X Habits You Should Avoid this Year
X Secrets You Didn't Know
20 Steps to Successful X
STEP 2: Make sure you deliver whatever information is promised in the title. You'll piss off your readers if you don't, and many of them won't come back.
STEP 3: Make the first few sentences/paragraph interesting. You can do so by telling a story or starting with something that spikes curiosity. I don't know about you, but I decide whether an article is worth reading or not from the first few sentences. Put yourself in the shoes of a visitor. Would you continue reading your article after the first few sentences?
STEP 4: Write longer articles. Longer articles get shared more, rank better, and generate more traffic than shorter articles. There's a lot of controversy regarding ideal content length, but this study proves that articles composed of at least 2,000 words have a better chance to rank well than shorter articles. I always shoot for at least 1,500 words, but more is always better if you can maintain the quality.
In other words, don't add superfluous paragraphs in a bid to write a longer article. Let your articles be useful to your readers in their entirety.
STEP 5: Include long tail keywords in your content. You're probably already doing this naturally if you're writing longer articles, but it doesn't hurt to do a bit of research, get some long tail keywords, and use them naturally within your content.
Long tail keywords help a ton in writing high quality articles because you give your readers the exact information they need when you factor in long tail keywords like in the image below:
If you include those long tail keywords, you would write content that appeals to those looking for the best humidifiers for dry nose, for big rooms, and that are easy to clean. That would be much better than writing a generic article that only appeals to people that aren't looking for humidifiers with special features or functions.
Build High Quality Links
Now that your site is in Google's good books (or ready to be), start building or attracting high quality links to further reinforce the fact that your site is a high quality site and deserves higher rankings. You can build high quality links in various ways, and some of the best are explained below:
Method #1
Guest post, but don't do it excessively. It's no longer news that Google now disapproves of guest posting for links, but it's still a healthy form of link building if you do it the right way (focus on high quality sites and don't just do it for the links).
The biggest mistake you have to avoid is guest posting to the extent that guest post links become a significant portion of your link profile. By the way, author byline links aren't as valuable as in-content links, so strive to get a link to your site within your post rather than within the author byline whenever you can.
Method #2
Get backlinks from relevant websites. It only makes sense that a website about potty training should have backlinks from sites or pages about potty training. Even if the link is from a news site like CNN that publishes a lot of different articles on different topics, there should be page-level relevance. Websites that have irrelevant backlinks are significantly more likely to get hit by a penalty than those that have mostly relevant backlinks.
Method #3
Build a brand. According to Google's Eric Schmidt, "brands are the solution, not the problem". "Brands are how you sort out the cesspool". Google trusts content from brands more and brands hardly get penalized. Building a brand is not a day's job, but you can start by making your website look professional, encouraging others to link to you using your brand name (this will happen naturally if you focus on outreach), and behaving like a real brand (in terms of the quality of information you put out, customer service, and more).
Method #4
Avoid anchor text over-optimization (discussed above).
Method #5
Obtain social signals naturally by publishing quality content that force readers to share them with their friends and bloggers with their readers. Don't buy any $5 social signal packages off Fiverr or tweet/likes exchange websites. In other words, don't spam. That said, there's nothing wrong with using Facebook's or Twitter's advertising platforms to promote your content and get more shares.
Method #6
Avoid black hat link building strategies, unless you're building "churn and burn' sites. Most of your links should be editorial, and from authority sites in your niche. If you publish quality content, authority sites will link to you naturally. If you contact them and ask for a link, they will link to you. Outreach and networking are very powerful link building strategies. They can help you generate the kind of backlinks that really move the needle on your rankings; the kind of backlinks your competitors can only dream of.
Neil Patel's blog and Backlinko have excellent articles on how to get powerful links through outreach and networking. They're the first blogs I would recommend to anyone interested in building links this way (and you should be interested).
Note: It's OK to use black hat links if your goal is to rank for a few months or a year and you don't want to go through the trouble of acquiring white hat links. You can use them to boost your link pyramids and in small amounts to your money site for diversity.
Wrapping it Up
There are many moving parts to ranking a website in Google, but if you forget about how complicated it is, you'll be able to optimize your sites properly for now and the future.
The biggest advice I can give you is to practice what you just read. If you want to rank for the long-term while avoiding penalties, this guide contains everything you need to succeed.